Intro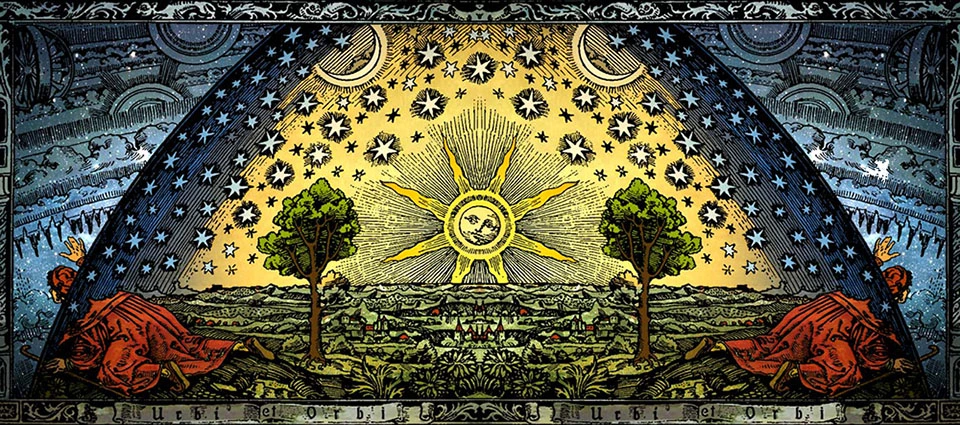 Flammarion C., L'Atmosphere: Météorologie Populaire (Paris, 1888), colorized
I am an Astrophysics PhD student at the University of Bologna. My interests revolve around observational cosmology and extragalactic astrophysics: cosmic chronometers, gravitational waves, stellar populations, galaxy formation and evolution.
Beyond the involvement with scientific research, I particularly enjoy communicating science to the wider public through outreach events. I am a member of Gapers Amateur Astronomers Group based in San Giovanni in Persiceto (BO), which I have been actively supporting since 2015.
---
Bio
I was born in 1996 in Renazzo, a small town between Ferrara and Bologna which is also the hometown of Ferruccio Lamborghini. On 15 January 1824 a meteorite fell and three stones with a total mass of ~ 10 kg were recovered. Due to its peculiar composition, it led to the definition of a new group of carbonaceous chondrites: Renazzo-type (CR).
In a nearby town, Cento, I attended the Scientific High School ISIT - Bassi Burgatti. Here I met Sandro Zannarini, professor of physics. It was thanks to him that my interest in astronomy exponentially grew. He persuaded me to participate in Italian Astronomy Olympiads and with his teachings I managed to reach the national stage. I also developed a strong passion for the most "hands-on" aspects of Astronomy and I decided to invest in the first proper telescope: Celestron CPC 800. Being unsuitable for astrophotography I used (and still use) it for outreach events.
Such website is part of my learning experience and therefore it is conceived as a work in progress, subject to continuous editing and open to any feedback that you may provide. Make sure to visit the G-Astronomy section!